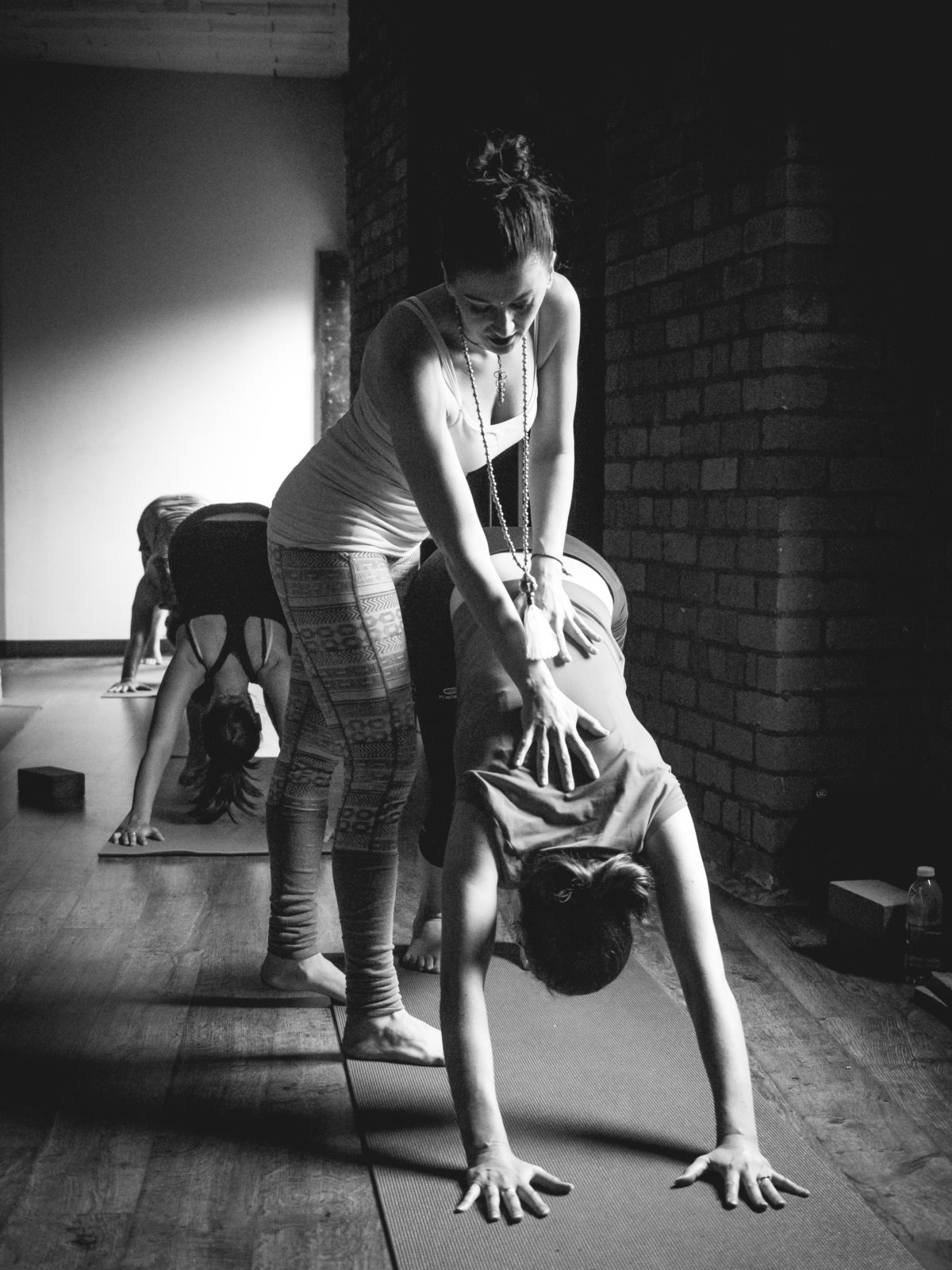 YOGA
Whether it's breathing, meditation or yoga; the way I teach is based on the way I personally experience these practices.
I work through all of the stages myself, so that I understand what my students are going through. My approach is both tactile and very individual – even when teaching a large group or workshop.
I offer as many posture alternatives ensuring that all bodies, abilities and ages gain from the practice. Through my anatomical knowledge and intuitive insight, as part of my classes you'll always find yourself within a safe, challenging and fun space.
As a traditional Hatha teacher, I tend to stick to the traditional order of connecting the mind, the breath and then the body – preparing the body through centering, opening up the lungs and then finally sealing the practice with meditation before savasana.
My teaching is versatile, ranging from the a soft and gentle Yin, Restorative Yoga class to a challenging and Dynamic Vinyasa Yoga.
I'm available for group classes, workshops, retreats and for those looking for more bespoke and personal approach, either to strengthen your basic knowledge or postures to deepen your practice – I offer 1 to 1 teaching.
JOIN ME ON THE MAT
WORKSHOPS
Yoga Is A Way Of Life
It's all about creating the Right Balance between strength and flexibility. It's a deep foundation strength (not tightness), that will allow for the body to open sequentially, so if you go for flexibility without also developing strength in those elongated muscles, you won't do yourself a favor as you'll weaken your body composition and create further imbalances.
I keep reminding my students/clients to watch their practice and ask themselves "Is my strength worth living up to my flexibility efforts".
Ok, so you know that meditation has dozens of benefits, and everybody is doing it. You look for information online or in books, and see that there are a LOT of different ways of doing meditation.
You wonder which way is best for you.
No matter what your fitness level is, I highly recommend giving one of Eunika's yoga sessions a go! She has a fabulous teaching method, helping everyone at every ability to perfect the different moves. Eunika knows how to push you to your potentials, while offering alternative stretches depending on your ability. She has a very calm, soothing voice, which really helps you to connect with yourself and  feel refreshed and after each of her class.
I absolutely love Eunika's yoga classes and workshops… She always makes things easy to understand and brings such a warmth… She has lots of compassion and love for her students and I always leave feeling nourished and calm. I totally recommend her also for her Thai massage work – such deep work in the body is totally necessary in this modern world of deeply stored dense energies and trauma. She's really intuitive and tunes in deeply to her clients – you really feel held.
What a liberating workshop!! I thoroughly enjoyed my experience at a beautiful yoga studio this weekend. My experience at the Hatha yoga workshop has been liberating and inspiring! The course materials and contents are just at the right length, you delivery is clear and relevant.

I am totally inspired by Eunika's wonderful delivery of knowledge as she is truly passionate, wonderful teacher/mentor!